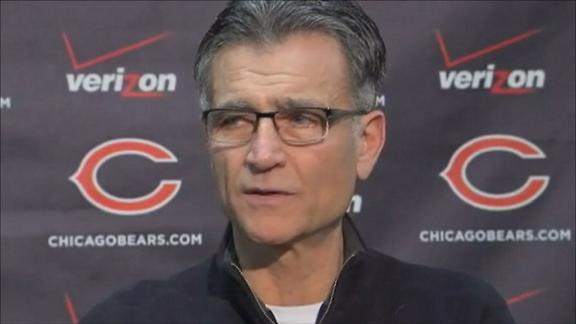 The Chicago Bears today decided to move on from the nearly 10 year long Jerry Angelo era in the Windy City and have relieved Angelo of his GM duties.
From the Bears' official release:
Chicago Bears President and CEO Ted Phillips informed Jerry Angelo this morning he will not return as the team's general manager for the 2012 season.
The team will hold a press conference today at 4 pm CT in the Halas Hall theatre. Halas Hall will be open to the media at 2:00 pm."
The Bears make a bit of a shocking move by firing Angelo, not because Angelo didn't deserve to be let go, but because NO ONE expected it to happen.
Admittedly I have been one to try and bring perspective to Angelo's tenure, have argued for Angelo's side but I emphasize I am not upset that he was let go, nor disappointed that he was let go. Could I have seen Angelo staying on going forward, yes, did he deserve to, possibly…..does it matter now? Certainly not, the Bears made their decision and it's a good move after 10 years of mediocre drafts and a roster that doesn't cut the mustard.
Now the question of speculation as to WHO the Bears will hire on as the new GM?
Promoting Tim Ruskell to the GM job is out of the question, Ruskell should be driving Angelo's car on the way out of town. Ruskell had a disastrous tenure in Seattle .
Chris Mortensen on ESPN 1000 reported that Ruskell most certainly would be considered for the GM job.
Ruskell has a full blown relationship and nearly the same philosophy as Angelo, would not be the guy to hire on.
Bears move to look at Bill Polian? Polian is another candidate mentioned by Mortensen on ESPN radio.
Other possible candidates include Eric DeCosta director of player personnel of the Ravens and Steve Keim Director of Player Personnel of the Arizona Cardinals.
Mortensen emphasized that he has not heard any names attached to the job as of yet. Those were two names that Bears fans are maybe not as familiar with but they are known as young guys who have stocked rosters with young talent.